Bombay Bicycle Club say goodbye to earls Court
The last band to play Earls Court before the builders move in, Bombay Bicycle Club made their very own little bit of rock history with a triumphant gig at the legendary venue.
Kicking off the show with their spoof documentary (set in the future, looking back at the show that was yet to happen) , the band played through an epic set drawing from across their 4 albums and featuring guest appearances from Lucy Rose, Rae Morris, Liz Lawrence, and Pink Floyd Legend David Gilmore.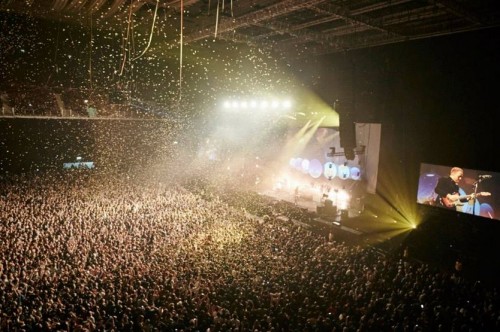 Gilmour was introduced onto the stage by Bombay Bicycle Club guitarist Jamie MacColl. "This man gave me my first guitar and was one of the first people to play this venue and by my count has played here more than 27 times." 
As the set drew to an end, the last refrains of Carry Me echoing around the cavernous Earls Court and explosions of glitter and light lit up the 17,000 strong crowd, it seemed the Bombay boys really had given the legendary venue a fitting send off.
Now, was that the sound of  the bulldozers or history knocking? 
Set list – 
'Overdone'
'Come To'
'It's Alright Now'
'Shuffle'
'Lights Out, Words Gone'
'Your Eyes'
'Home By Now'
'Whenever, Wherever'
'Rinse Me Down'
'Wish You Were Here'
'Ivy & Gold'
'The Giantess'
'Emergency Contraception Blues'
'Evening/Morning'
'Dust On The Ground'
'How Can You Swallow So Much Sleep'
'Feel'
'Luna'
'Always Like This'
'So Long, See You Tomorrow'
'What If'
'Carry Me'