Disclosure reveal full album details of Caracal
A number of exciting collaborator names who appear on 'Caracal' have been teased out over recent weeks – Lion Babe, Nao, Kwabs, Gregory Porter and of course Sam Smith this week. Disclosure can now confirm the full details of the albums' 13 tracks.
Global stars include The Weeknd, Miguel and Lorde alongside some extremely talented newcomer Jordan Rakei and Brendan Reilly. These guest features sit perfectly alongside 'Jaded', 'Echoes' and 'Molocules' which are written and performed by Howard Lawrence himself.
While 'Settle' relied more on vocal samples, as well as new artists they broke through, they've now got people queuing up to work with them. "We wanted to write songs with loads of singers so there are no instrumentals. We wanted to hone our songwriting skills," says Howard. "When you get the chance to work with amazing people you want to make the most of them."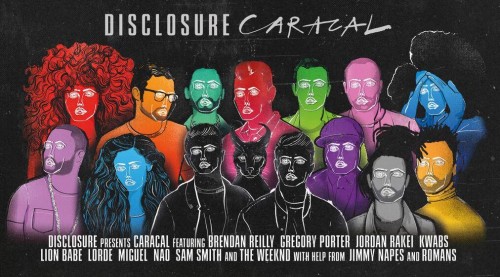 'Caracal' is a muscular and nuanced record, with a depth to it that will pin it to the canon of dance music history. It's crunchy and gets under your skin. A proper album album, you might say. "We feel like a band now, instead of just releasing tracks for the club. We wanted to really step out with a solid body of work and tour for two years. We're very much an album band," says Howard.
Disclosure are still doing what they do best – taking house and giving it a massive injection of musicality – but there's a renewed depth and skill to this latest work. "It's not just musicality," they say. "It's songwriting in its classic form, songs you can play on the piano." The pace across 'Caracal' is generally slowed down, "With dance and electronica, your genre is defined by a BPM. As Disclosure we want to be known sonically, for our sound. We want to go through a variety of speeds and even genres and focus on mix and production," says Guy.
As the culture in US changes, and moves away from EDM to a welcome Disclosure-fuelled return of the pioneering dance music genres full of character such as garage, house and techno with a modern twist, Guy and Howard will remain at the vanguard.
Tracklisting (Deluxe Version):
Nocturnal ft. The Weeknd
Omen ft. Sam Smith
Holding On ft. Gregory Porter
Hourglass ft. Lion Babe
Willing & Able ft. Kwabs
Magnets ft. Lorde
Jaded
Good Intentions ft. Miguel
Superego ft. Nao
Echoes
Masterpiece ft. Jordan Rakei
Molecules
Moving Mountains ft. Brendan Riley
Bang That
Afterthought
Preorder the album here