The Island Life Interview: Jordan Stephens, Rizzle Kicks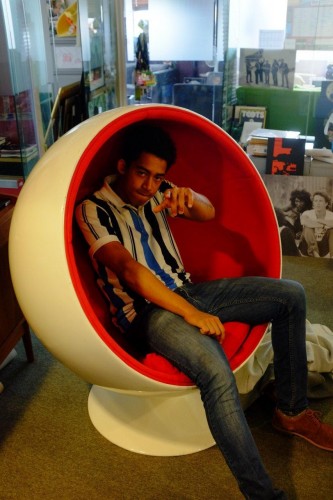 In the first of our series of interviews from Island HQ, we ask Jordan Stephens from Rizzle Kicks the all-important questions.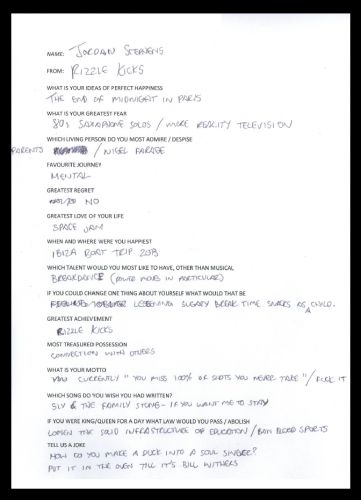 NAME:  Jordan Stephens
FROM: Rizzle Kicks
WHAT IS YOUR IDEAS OF PERFECT HAPPINESS
The end of Midnight In Paris
WHAT IS YOUR GREATEST FEAR
80's saxophone solos/more reality television
WHICH LIVING PERSON DO YOU MOST ADMIRE / DESPISE
A.Parents D.Nigel Farage
FAVOURITE JOURNEY
Mental
GREATEST REGRET
No
GREATEST LOVE OF YOUR LIFE
Space Jam
WHEN AND WHERE WERE YOU HAPPIEST
Ibiza Boat Trip 2013
WHICH TALENT WOULD YOU MOST LIKE TO HAVE, OTHER THAN MUSICAL
Breakdance (Power moves in particular)
IF YOU COULD CHANGE ONE THING ABOUT YOURSELF WHAT WOULD THAT BE
Lessening sugary break time snacks as a child
GREATEST ACHIEVEMENT
Rizzle Kicks
MOST TREASURED POSSESSION
Connection with others
WHAT IS YOUR MOTTO
Currently "You Miss 100% of shots you never take" / Fuck It
WHICH SONG DO YOU WISH YOU HAD WRITTEN?
Sly & The Family Stone – If You Want Me To Stay
IF YOU WERE KING/QUEEN FOR A DAY WHAT LAW WOULD YOU PASS / ABOLISH
Loosen the solid infrastructure of education / ban blood sports
TELL US A JOKE
How do you make a duck into a soul singer?
Put it in the oven till it's Bill Withers