Last week it was the turn of Alex Clare to take a seat in our big red chair and field the Island Life questions. Read on to hear Alex's motto for living and, possibly the greatest joke ever told  about a squid…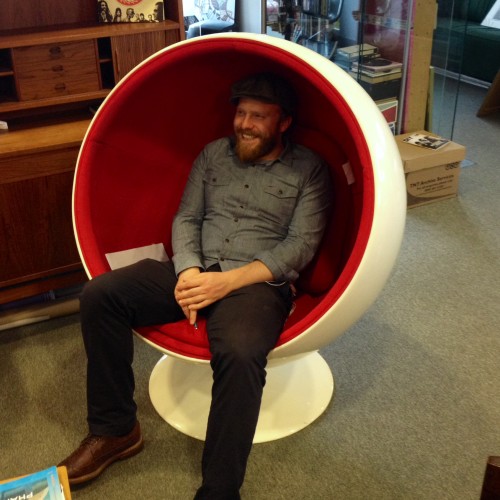 NAME: Alex Clare
 WHAT IS YOUR IDEAS OF PERFECT HAPPINESS
Happiness should always be far from perfect; if you strive for perfection you'll never truly be happy
WHAT IS YOUR GREATEST FEAR
It's so repressed into the corners of my psyche I don't even know!
FAVOURITE JOURNEY
London to Jerusalem
GREATEST REGRET
I've got plenty, no point in dragging them back up
GREATEST LOVE OF YOUR LIFE
My wife and daughter
WHEN AND WHERE WERE YOU HAPPIEST
See above
WHICH TALENT WOULD YOU MOST LIKE TO HAVE, OTHER THAN MUSICAL
Happy with what I've got but would like a complete understanding of the human body and mind
IF YOU COULD CHANGE ONE THING ABOUT YOURSELF WHAT WOULD THAT BE
I'm happy with the way I am (but I would love to be able to wake up earlier)
GREATEST ACHIEVEMENT
Managing to find an amazing wife and have an amazing daughter
MOST TREASURED POSSESSION
Books
WHAT IS YOUR MOTTO
Be respectful with your seniors, be patient with your juniors, and greet everyone with a cheery disposition
WHICH SONG DO YOU WISH YOU HAD WRITTEN?
"I Love You More Than You'll Ever Know" by Donny Hathaway
IF YOU WERE KING/QUEEN FOR A DAY WHAT LAW WOULD YOU PASS / ABOLISH
No idea!
TELL US A JOKE
A squid is swimming along minding his own business, when suddenly a shark appears in front of him. Obviously the squid is terrified as the shark approaches him looking like he's going to eat him. The squid starts coughing and pleads with the shark "Please don't eat me, besides you can tell by my cough I'm sick, I'll only make you ill if you eat me". The shark looks him up and down and says "Alright then, I'll let you live, but you have to come with me" So they swim along together for a while until the reach a massive shark.
"Alright Dave" says the first shark, "Here's that Sick Squid I owe you"
IF YOUR 17 YEAR OLD SELF COULD SEE YOU NOW WHAT WOULD THEY THINK?
They'd be very confused!
WHAT DO YOU MOST VALUE IN YOUR FRIENDS?
Honesty and kind heartedness
WHAT IS YOUR CURRENT STATE OF MIND
Lucid
WHAT'S MORE IMPORTANT TALENT OR AMBITION?
Talent