We're very excited to announce that this month our Island Records IPA heads down under, launching to the Australian craft beer market. Accompanied by our accompanying Spotify playlists, the signature Session IPA delivers the ultimate soundtrack for drinking pleasure via the world's first-ever 'Shazamable' can – it's the addition to the antipodean craft brewing scene that all beer and music lovers have been waiting for.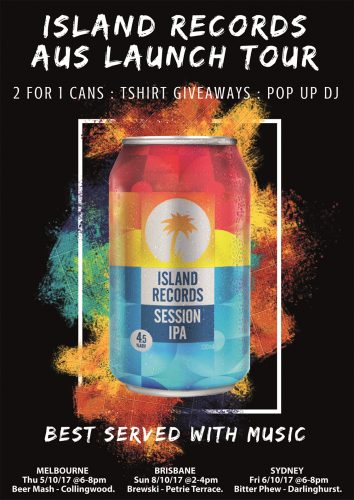 Brewed in Australia under license by Barossa Valley Brewing, marketed by The British Invasion and distributed by Northdown Craft Beer, Session IPA alludes to the Jamaican heritage of the record label, brimming with positive vibrations, bursting with juicy hop aromas with flavours of citrus and tropical fruits.
With its foundations laid in the UK, the first batch of Session IPA was brewed in December 2014 by Robin Pearson, an aspiring brewer and music lover. "I was approached and asked to design a beer that would reflect the brand, the history and the artists on Island Records," — says Robin. "I decided on a Session IPA to give the beer a bright tropical and citrus fruit flavour that picks up on the Jamaican heritage and the palm tree logo that defines the label. I also thought the idea of a 'Session' IPA sits well with a beer for a record label."
The man responsible for bringing our Session IPA to Australian shores is music and entertainment entrepreneur, Nigel Rennard, under his umbrella company The British Invasion Pty Ltd, securing the exclusive license to produce the IPA recipe specially created for the Australian market and palate.
Nigel's previous exploits include booking bands such as Cold Chisel, The Angels and Midnight Oil, owning Melbourne's iconic music store Missing Link Records, promoting at the infamous Crystal Ballroom in St.Kilda, where The Cure, New Order and many others played, and being the international tour promoter for The Dead Kennedys, Nick Cave, Screamin' Jay Hawkins, The Cramps, D.R.I. and Morbid Angel. "As soon as I discovered the Island Records Session IPA and saw the incredible 'Shazam' can with music playlists, I knew it was one of the most exciting prospects for the Australian craft beer market. Having sold the Island Records catalogue for 30 years, with its incredible list of artists, it was a natural fit both musically and promotionally for me" — says Nigel.